GET EL GORDO DRAW RESULTS BY EMAIL
For more information or to receive the results immediately after each draw please complete the form below: ("Your personal details will be kept safe and will not be divulged under ANY circumstance.")
---
Play and Win in the Spanish El Gordo Draw!
Often called the Richest Draw in the World because of the number of cash prizes it pays out, the Spanish El Gordo Draw creates thousands of new winners each month. The El Gordo December or Navidad draw alone offers more than €2.5 BILLION in cash prizes!
The good news is, you can now enter and win in any of the monthly El Gordo Draws through International Lottery Subscriptions (ILS)

What Makes the El Gordo Draw Special?
Unlike other lotteries where you purchase a ticket with pre-selected numbers that you have chosen yourself, El Gordo is similar to that of a Sweepstakes raffle. You can either buy a full ticket (Billete), or 1/10th of a ticket (Decimo). Cash prizes are given out for matching different numbers from the winning ticket.


The El Gordo draw takes place every first Saturday of the month, and gives out prizes ranging from €84 million to €2.5 billion!


The biggest one of all is the Navidad or Christmas draw. The draw (usually held at 9:00 CET of 22nd December) is so popular that the day itself is almost considered as a National Holiday in Spain and gets International Media coverage each year.


Apart from jaw-dropping first prizes, El Gordo offers thousands of other small prizes. As a general rule 1 in every 3 tickets wins a prize. In the December El Gordo draw, however, the odds are 1-in-6.



4 Reasons to Play El Gordo through ILS:
CONVENIENCE. You don't need to have a friend or relative in Spain just to order El Gordo Draw tickets. ILS can do that for you. Our authorized agents will purchase your tickets, monitor draw results, claim winnings on your behalf, and remit these winnings to you wherever in the world you live. You don't have to do anything – we'll take care of everything for you.


CONFIDENCE. When you play the El Gordo Draw through ILS, you can rest assured that your entries are handled by authorized and licensed agents with over 10 years of experience and 100,000 satisfied global customers. Your tickets (which must remain in Spain) are deposited in escrow in one of Spain's largest federally chartered banks, and the ticket numbers sent to you in an Official Entry Confirmation. If/when you win, you'll be informed immediately by email and phone and asked how you would like your prize money sent to you.


NO HIDDEN CHARGES OR FEES. ILS remits your prize winnings to any bank in the world you specify, free of charge. No commissions or agent fees are subtracted. Your winnings are all yours.


PRIVACY. Play El Gordo as often as you like from the comfort of your home or office. Your entry and winnings are kept 100% confidential.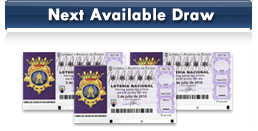 October 14, 2023

€105 MILLION

---
El Gordo Draw
December 22, 2023

€2.6 BILLION